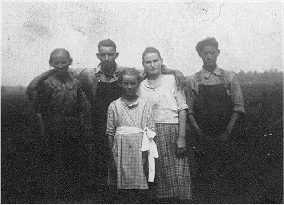 This is a picture of my great grandparents. Left to right.
Ida, (my great grandmother) full blooded Cherokee.
George, (My great grandfather) nobody is really sure how much Cherokee.
Nola, (front center) my great aunt.
Rose, (the pale looking one). She was my great uncles wife, I believe she was Irish, my great uncle, (Norman I think), was taking the picture.
Lawrence, my grandfather.
The picture was taken sometime in the late 1920s or early 30s in McLean County, Kentucky. It, (the picture) was so dark when I received it that none of the faces were visible except for Rose's
I have one other picture of George and Ida but it isn't optimized for the Internet. As far as anyone knows, these are the only surviving pictures.
If anyone is interested, I will optimize the other picture and post it also.