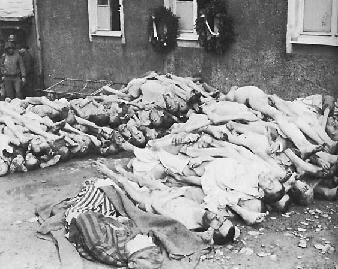 aren't you all relieved the aforeposted photographs were probably staged? yeah, the holocaust didn't really happen according to imamadmandinejad. the starvation, the experiments on innocent children, the gas chambers, the cruelty, etc.
dayam! where'd they get all those actors?
i believe we are approaching a time in history where if we DON'T pay attention - this and much worse is at hand. we MUST teach our children well, or their educators WON'T.
"and with all the deception of wickedness for those who perish, because they did not receive the love of the truth so as to be saved. (2 Thessalonians 2:10)
For this reason God will send upon them a deluding influence so that they will believe what is false, (2 Thessalonians 2:11)"
"And you, son of man, prophesy against Gog and say, `Thus says the Lord GOD, "Behold, I am against you, O Gog, prince of Rosh, Meshech and Tubal; (Ezekiel 39:1)
and I will turn you around, drive you on, take you up from the remotest parts of the north and bring you against the mountains of Israel. (Ezekiel 39:2)
"I will strike your bow from your left hand and dash down your arrows from your right hand. (Ezekiel 39:3)
"You will fall on the mountains of Israel, you and all your troops and the peoples who are with you; I will give you as food to every kind of predatory bird and beast of the field. (Ezekiel 39:4)
"You will fall on the open field; for it is I who have spoken," declares the Lord GOD. (Ezekiel 39:5)
"And I will send fire upon Magog and those who inhabit the coastlands in safety; and they will know that I am the LORD. (Ezekiel 39:6)"
a continuing study of ezekiel 38 and 39 is warranted in order to fully understand what is truly happening in the middle east. fall for the truth or fall for a lie - that's what it all boils down to. i prefer to take the G-d of israel seriously. He is incapable of lying.