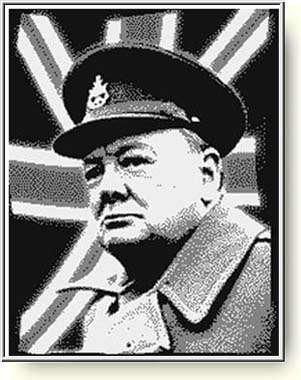 famous churchill quotes, most appropriate to the times in which we live:
"A lie gets halfway around the world before the truth has a chance to get its pants on."
reuter's...
"A prisoner of war is a man who tries to kill you and fails, and then asks you not to kill him."
gitmo...
"Battles are won by slaughter and maneuver. The greater the general, the more he contributes in maneuver, the less he demands in slaughter."
let our military leaders do their jobs...
"Courage is rightly esteemed the first of human qualities... because it is the quality which guarantees all others."
all you cowards, please shut up...
" Danger - if you meet it promptly and without flinching - you will reduce the danger by half. Never run away from anything. Never!"
react appropriately, in appropriate measures...
"You have enemies? Good. That means you've stood up for something, sometime in your life."
remember who they hated before they hated you...
"You can always count on Americans to do the right thing - after they've tried everything else."
ahem...
"When the eagles are silent the parrots begin to jabber."
you know who you are...
"When I am abroad, I always make it a rule never to criticize or attack the government of my own country. I make up for lost time when I come home."
dixie chicks, danny glover, nancy pelosy, et.al; please shut up...
"Victory at all costs, victory in spite of all terror, victory however long and hard the road may be; for without victory, there is no survival."
an emphatic win...no cowering...no bowing to the enemy...
winston, we hardly knew
you
.