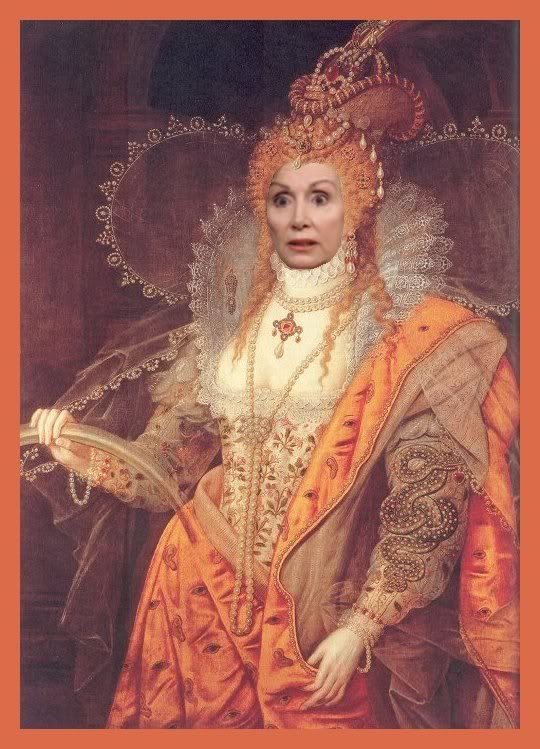 photo courtesy of
blue star chronicles
.
"Nancy Pelosi is to world diplomacy what Michael Jordan was to baseball: completely forgettable and unnecessary. But unlike Michael's slightly amusing foray into the Babe's world, there's nothing funny about Pelosi in Damascus. The terrorists and their supporters, who are always looking for weak links and signs that the US does not have the will or backbone to win the war we're fighting with them, just found a great ally in Madame Speaker.
Among the older members of my extended Syrian family, there was a general attitude that kindness equaled weakness. It wasn't that they didn't believe in charity, but that it must be parceled out carefully, because those of ill intent can be quick to take advantage of those they perceive to be gullible and soft. This is what Nancy Pelosi either doesn't understand, or doesn't care about: she's being used by the very people who want to destroy us in another round of window dressing, subterfuge, and deceit. I suspect that Pelosi knows this, but is more intent on trying to undermine the President than in looking at how she could best support national security.
Let's look at the record. Syria has admitted that it has financially supported Hezbollah and Hamas, but says that it doesn't supply them with arms. What's the difference? What do you think these groups buy with the money? How many Israeli and Lebanese men, women and children have been slaughtered because of Syrian backing of these groups? And who do you think Syria supports across the border in Iraq: our troops or the terrorists some blithely refer to as "insurgents"? Without the direct involvement of Syria and Iran, the current terrorism movement in Iraq would have considerably less groundswell."
fresh in from
american congress for truth
.
if you cannot believe a homey, who can you believe?
emilio karim dabul makes some very pointed statements regarding his former countrymen - i would encourage each of you to take these words to heart - in particular, "The problem is she's not just hurting the President, she's betraying our troops, and everyone around the world at risk to terrorist attacks, which is most of us."
syria is the very essence of evil nancy understands all too well. if she plays her cards right, they may well allow her to keep her crown - provided it is covering her burka! burqa! burkha! regardless of how you spell it!
2 thess 2:11-on. come on - break that gold binding and see if i'm wrong...
links: all the links found
here
plus
american crusader
,
daddio
,
eyes
,
the new guy, bert
.