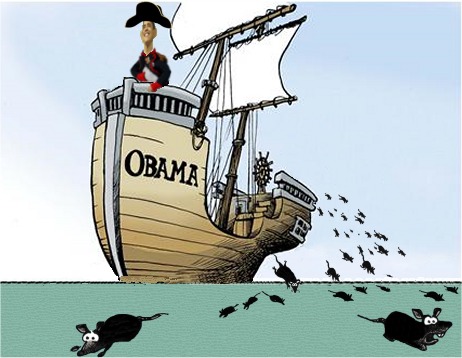 It begain in July with, Peter Orszag, the White House budget director. Now we have an exodus, which is normal (sure it is,) just before the fall elections.

If you ask me, there seems to be a sense of urgency as these bad actors run to cover their collective asses and salvage their careers.

Christina Romer, the chairman of President Obama's Council of Economic Advisors becomes the first high-profile rodent to leave the foundering economic ship that is Obama's "fundamentally transformed" America.

Chief of Staff Rahm Emanuel, who apparently has a severe case of short man syndrome, leaves to run for the mayor of Chicago (like its not corrupt enough already.)

Senior advisers David Axelrod and Valerie Jarrett, (who both lie so much their tongues have turned black,) are both leaving.

The dumbest press secretary in history Robert Gibbs is leaving.

Delusional Joe Biden the Vice President was stupid enough to promise,"I guarantee you we're going to have a majority in the House and a majority in the Senate. I absolutely believe that,". I believe he will be forced to, "Retire and spend more time with his family." instead of running for office again.

Larry Summers will be stepping down as director of President Obama's National Economic Council and looking for a job elsewhere, (if anyone will hire him.) Looks like Obama is running out of economists. Maybe Paul Krugman will step in, (that would be funny. He could propose something then blast himself the next day!)

It appears that some Democrat insiders are hoping Obama will take advantage of the departures to bring in outsiders, (read, someone who's sane) to challenge the president's current team.

"They miscalculated where people were out in the country on jobs, on spending, on the deficit, on debt," said a longtime Democratic strategist who works with the White House on a variety of issues. "They have not been able to get ahead of any of it. And it's all about the insularity. Otherwise how do you explain how a group who came in with more goodwill in decades squandered it?"
The strategist asked not to be identified in order to speak freely about the president and his staff.

(chickencrap!)
This is not an uncommon view among Democratic political professionals, many of whom share the goals of the White House but have grown frustrated with a staff they see as unapproachable and set in their ways.
Yea, sure, Obama's policies are terrific, the problem is with his staff! So we need to move those deck chairs around.

Whoda thunk?